Konstantin Wecker
Uferlos from America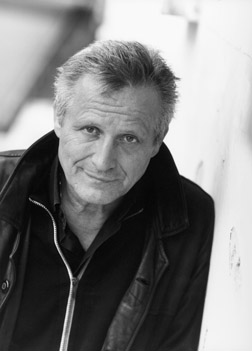 Konstantin Wecker is a singer/songwriter from Munich, Germany born June 1, 1947. He was a driving force in the Liedermacher movement, which was born during the 1968 student uprisings. Liedermacher is characterized by socially conscious lyrics set to music which is uncategorizable. It can be compared to the "Chanson" of France and Québec, and "Nueva Canción" of Latin America, and has its roots in the cheeky German cabaret songs of the Weimar Republic. The term "liedermacher" literally means "song-maker," and evolved from the term "Stückeschrieber", coined by Bertolt Brecht, and stresses an accessible, workaday quality. Wecker utilizes elements of rock, folk, and especially jazz and classical, in an extremely complex combination. Known for his percussive piano style and deep, powerful vocals, Wecker's songs typically deal with three major themes: politics, love, and a lust for life.* This website is intended as an introduction to Wecker's work to those outside of Germany, particularly North America. It is very academically-oriented, as much of the information was gathered as a result of projects done as part of ethnomusicology courses taken while the Webmaster was a university student. As well, Wecker's music has touched a number of English-speaking enthusiasts, thus creating a demand for an English-language website.
---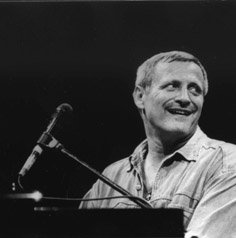 Table of Contents
News: The moment all of Konstantin Wecker's North American fans have been waiting for: Three Worlds, Three Voices, One Vision, the concert from 1988 featuring Konstantin, Joan Baez, and Mercedes Sosa (from Argentina), has been released on DVD! It is in NTSC format, so it will play normally on North American DVD players. This was the concert broadcast on cable and public television that was our introduction to the music of Konstantin Wecker. You can purchase the DVD through Amazon.

Some translations of Wecker's songs. This is the most celebrated part of this website. Some very good news for those of you who have been asking for more translations. I recently rediscovered the notebooks I was using when writing the original translations, and hope to have more online in the very near future. New: "Der Himmel brennt" Here is the term paper I prepared for a university ethnomusicology course about Wecker and his work. Sounds Celebrating Resistance was a California-based alternative newspaper about political music, published an updated version of my term paper in their final issue in 1999, called "Konstantin Wecker: A Voice of Passion". You can also read the paper in their archive here. A resource list compiled from my research -- albums, books, television appearances, and more. All of the reviews of Konstantin's CDs that I have written have been archived here: Reviews. Konstantin has a very in-depth official site with a complete discography, all of his song texts, lots of photos, and much more!
---
*Information about liedermacher came from the excellent article "West Germany's Liedermacher: Pop Music and Social Criticism," by Richard J. Rundell (New Mexico State University, Las Cruces), in European Studies Journal, Volume 3, Number 2, 1986.
---
Sign My Guestbook
View My Guestbook
---
---
Created: August 5, 1997
Updated: November 23, 2005 Konstantin Wecker: Uferlos from America was created by Paula E. Kirman of Calypso Communication & Consulting. Paula is a writer, website designer, photographer, musician, and poet in Canada.